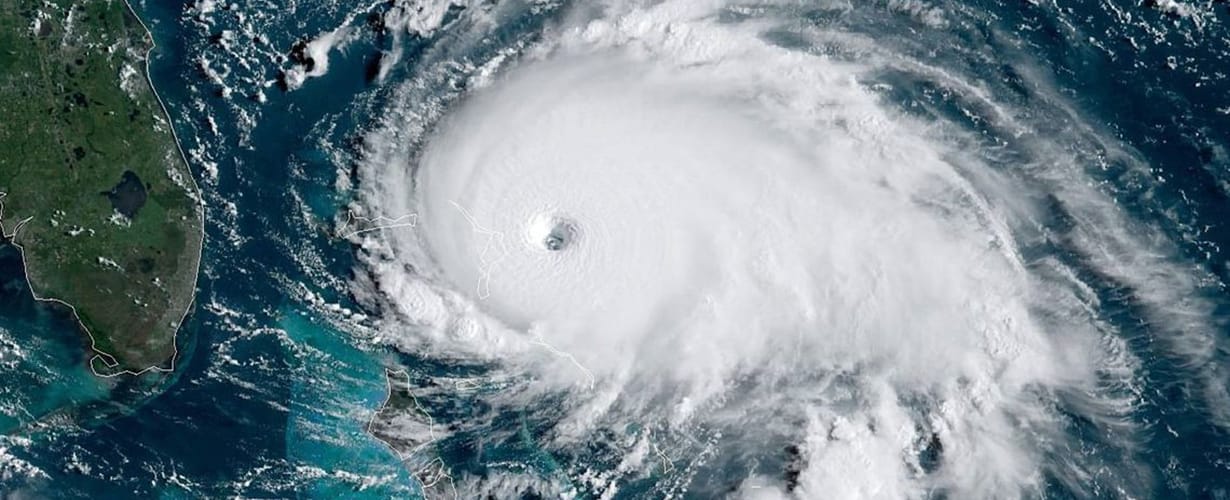 Hurricane Dorian
Facts
A category 5 hurricane that became the most intense tropical cyclone on record to strike the Bahamas
More than 1 million people evacuated in three U.S. states
Share This
Hurricane Dorian is tied with the 1935 Labor Day storm as the strongest storm to make landfall in the Atlantic and the strongest hurricane to hit the Bahamas.
Dorian made landfall on Great Abaco on Sunday, Sept. 1, 2019 at Elbow Cay and Marsh Harbour. Winds were at 185 mph with higher gusts at both landfalls. The storm moved very slowly toward Grand Bahama Island making landfall there with slightly decreased winds.
The slow movement of the storm meant that Dorian remained atop Great Abaco and above Grand Bahama Island for an extended period of time. There was extensive destruction due to high winds and strong surge. Five deaths were initially reported in the Bahamas.
There was extensive destruction due to high winds and strong surge.
Mandatory evacuations were declared in parts of Florida, Georgia and South Carolina. More than one million people were ordered out of harm's way; 830,000 in South Carolina alone.
In the Bahamas there were catastrophic impacts due to the wind and storm surge, as well as lengthy power outages and infrastructure damage.
Immediate emergency relief needs included shelter, food, medical support, search and rescue operations, livestock relocation, and power/communications restoration. Those were primarily the responsibility of local and state government entities and existing partners within the state.
Needs continue for years to come.
Homes that were destroyed or suffered major damage required mucking, gutting, and rebuilding. There was a need for debris removal and replacement of belongings, including furniture and clothing, appliances, and vehicles.
Previous experience has shown us that most people, corporations, and foundations, make donations in the first few days after a hurricane makes landfall. Yet the needs continue for years to come.
Long-term recovery includes restoration of property, livelihood recovery, and environmental cleanup and repair of infrastructure damage to dams, roadways, bridges.
Reprinted with permission from our partners at Center for Disaster Philanthropy