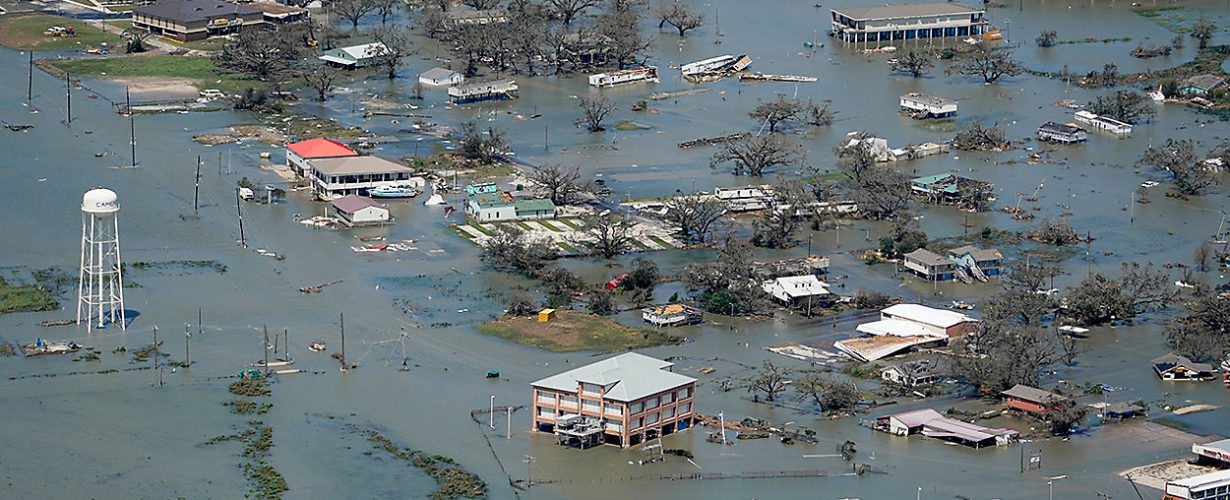 2020 Hurricane Relief
$8-10 billion
estimated damage caused by Hurricane Sally
$10-12 billion
estimated damage caused by Hurricane Laura
Share This
On August 6th the National Oceanic and Atmospheric Association (NOAA) released an updated 2020 Atlantic hurricane season outlook calling for as many as 25 named storms and six major hurricanes, more than double the 1981-2010 historical averages.
Zeta Makes Landfall as a Category 2 Hurricane
10/29/2020
Hurricane Zeta was the 28th tropical storm in the 2020 Atlantic hurricane season. The storm followed a very similar path as Hurricane Delta which made landfall on Oct. 7th, only slightly further to the east.
Before making landfall in the U.S. Zeta brought strong winds and heavy rain to the tip of the Yucatan including the hard-hit resort communities of Cozumel, Cancun and Playa del Carmen.
Zeta made landfall in the United States in the afternoon of Oct. 28 near Cocodrie, Louisiana as a strong Category 2 storm with maximum sustained winds of 110 mph – just one mph below the threshold for a major Category 3 hurricane.
Damage assessments have not been completed, however, the New Orleans region seems to have experienced the most destruction with at least one building collapsed, one person injured, trees and powerlines downed, and power outages for over 400,000 customers.
Three fatalities have been reported from Zeta – one each in New Orleans, Mississippi, and Georgia. As of the morning of Oct. 20th, just under 3 million customers were without power in areas hit by the storm. Electricity is expected to be restored within 10 days.
Hurricane Delta
10/12/2020
Hurricane Delta brought flooding and high winds to coastal Louisiana late Friday, October 9 when it made landfall in Cameron Parish, just 20 miles from where Hurricane Laura destroyed neighborhoods in August.
Hurricane Delta battered the Yucatan peninsula on Wednesday, October 7, and strengthened to a Category 2 storm as it approached the Louisiana coast. Delta uprooted trees and power lines and wreaked havoc on communities just beginning to recover following Hurricanes Beta, Sally, and Laura.
Approximately 8,000 people are still living in hotel rooms as a result of the devastation to homes following Hurricane Laura which struck the Southwest of the state in August.
Delta is the 10th named storm to make a U.S. landfall this year, breaking a 1916 record.
Hurricane Sally
Sally made landfall as a slow-moving Category 2 storm on Sept. 16 near Gulf Shores, Alabama. Traveling at only three mph the storm dropped significant levels of rain on all areas in its path including 24 inches of rain in Pensacola, FL. At least 550,000 people lost power immediately following the storm. Two people are reported to have died.
Donations to 2020 Hurricane Relief will provide mid to long term recovery for families and communities impacted by the storms.
Hurricane Laura
After causing four fatalities in the Dominican Republic and 21 in Haiti, Laura moved into the Gulf of Mexico and then rapidly strengthened from a Category 2 into a Category 4 storm and tied with the 1856 Last Island hurricane as the strongest storm to make landfall in Louisiana.
The Category 4 hurricane made landfall on August 27th near Cameron, LA, just South of Lake Charles, Louisiana and east of Port Arthur, Texas. Lake Charles suffered "catastrophic" damage caused by wind and debris. The parishes of Cameron, Calcasieu, Vernon and Beauregard all reported significant damage.
There were 77 lives lost in Texas and Louisiana due to Hurricane Laura. Eight of the 32 deaths in Louisiana were connected to heat-related illnesses and nine to carbon monoxide poisoning. As many as 4,100 people had no water following the storm, as water treatment plants were heavily impacted.